Need more Drag King information?
Yes, Drag Kings are a worldwide phenomenon. We have included some of our favorite sites below. When you visit them, please let them know that the SouthTown Drag Kingz of Denver sent you. THANKS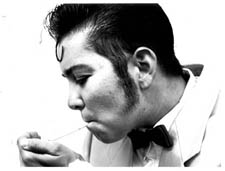 KINGZ Favorites ( NOT DRAG KING SITES )
60 SOUTH The BEST nightclub in Denver. Open 7 days a week. Home to the KINGZ.
tuesdays site Photographer of the KINGZ. Photography, dance and more...
Bound By Design Where the KINGZ go to get tattoed and pierced.


SouthTown Drag King. DUKE OF DENVER 2000-2001
Casanova Kings
Kings on the road, excellent Drag King source very up to date!
Tom Fullery One of the SouthTown Drag KINGZ
Lizerace Drag King and DJ. Excellent site!
Mr. Winkle Alien? The KING of dogs!
DRED KING ( N.Y.C. ) Meet Drag King Dred. The most famous Drag King in the world.
STARR Master's site.....COMING SOON SouthTown Drag King STARR Masters, site coming soon!
H.I.S. Kings site.....COMING SOON Site coming soon!