We are working on a book documenting the drag king scene in Denver Colorado

Former Zu Denver club owner Tina Powers is collaborating with drag king photographer Tuesday to produce a book documenting Denver's rich drag king history. The book will center around the original Zu Drag Kings as well as their successors the Southtown Kings. We will also document the troupes that have formed since those first years in the scene.
If you have any photos, videos, newspaper articles, ads, flyers, posters, clips, stories, anecdotes or memories that you would like to share about the Zu Kings, The Southtown Kings or any of the groups up to present day. Please contact Tina Powers through Facebook or the contact button on this site.
we would love everyone's input.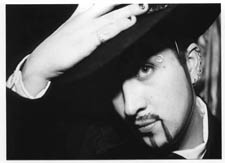 KINGZ address
KINGZ c/o
60 SOUTH
60 South Broadway
Denver, CO 80209
(303)777-0193


Contact Tina Powers
60 SOUTH Web Site (PERMANENTLY CLOSED)
60 SOUTH Facebook Page. ( @SixtySouthNightclub)
This site is currently under construction. Visit again soon.